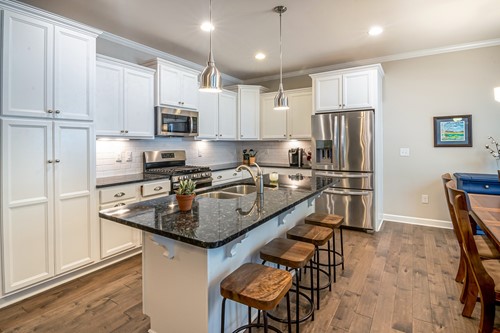 No trend can remain popular forever. Regarding interior design, this is especially true in kitchens. If you've designed your kitchen based on popular trends—or are looking for inspiration for fresh changes—here are some trends gradually going out of style:
Tile Countertops
Tile countertops have been a popular trend for a long time. However, one major disadvantage is they require constant maintenance because of grout stains and chip damage. If you have tile countertops, consider replacing them with a more updated and easy-to-maintain material such as concrete or butcher block.
Shiny Brass
Metallic finishes are great in moderation. However, shiny brass accents can make a kitchen seem dated. Search for cabinet hardware like knobs, handles and drawer pulls. If you want to replace them while still keeping a metallic finish, go for brushed nickel or stainless steel.
Over-Range Microwaves
A common way to save space in smaller kitchens is to install a microwave directly over the range. While convenient, this can come with some disadvantages, including dating the whole aesthetic of your kitchen. Instead, place your microwave in a custom-build alcove over the counter.
Speckled Granite
Speckled granite countertops have been a mainstay of kitchen design for decades. Granite is still a great choice for countertop materials as it's strong and easy to maintain. But speckled, high-contrast varieties in particular are losing their trend appeal. Try swapping them for a more subtle granite color or for something new like quartz, concrete or butcher block.
Hanging Pot Racks
Another space-saving trend on its way out is the hanging pot rack. With so many new and innovative storage options, you can forego the hanging rack approach and tuck away your pots and pans. Cabinet rollouts or Lazy Susans are perfect for maximizing cabinet space and work especially well for storing your cookware.
Kitchen Desks
Even if you are working from home more these days, it might be best to get rid of your kitchen desk. Kitchen desks and miniature workspaces are falling out of style in favor of more efficient use of space like pantries or dedicated food prep counters.
If you need ideas for ways to update your kitchen and give it a long-lasting style, these are great places to focus on. With the right balance of trendy and timeless, you can keep your kitchen stylish for decades.